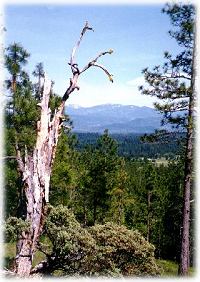 Area Information

iving in the Illinois Valley is a relaxed and rewarding experience. There are beautiful views of the surrounding Siskiyou Mountains, the Illinois River, the many creeks, streams and the resulting wildlife. The lifestyle here is a quiet one, and the air is clean. The Illinois River Valley is a great place to live and raise a family!
The Illinois Valley has a population of over 17,220. The valley lies half way between the Bay Area and Portland. Our main "city", Cave Junction, is 27 miles south of Grants Pass, the county seat, along Highway 199, which connects Interstate 5 with Highway 101 near Brookings. Cave Junction is the center of much of our area's business activity. Most every thing you need can be purchased there. Nine miles north is the small town of Selma with the Lake Selmac Resort and public campgrounds nearby. Guarding the southern approach to the valley is the community of O'Brien with a country store, restaurant, and post office.
A one hour drive from our valley is a Commercial Airport in Medford. From there it is only one more hour to either the Bay Area or Portland via a commercial airliner. If you own your own airplane, try the Illinois Valley Airport there is a public 5280' runway just 5 miles south of Cave Junction.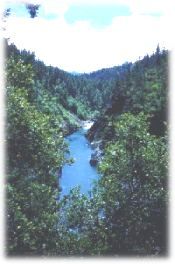 Southern Oregon is forested with many small beautiful valleys where wineries, fruit, hay, and wood are the major products. There are scattered small gold mines. The elevation averages 1,350 ft. You are close to the Oregon Caves National Monument and the rugged Kalmiopsis Wilderness Area with its unique biological landscape. You can see wildflowers that grow no where else on Earth in this protected region. If white water rafting is for you, enjoy the Illinois, the Rogue, the Klamath, and the Umpqua rivers. Cross country skiing, and sledding are available at the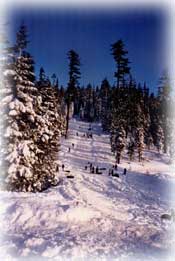 Page Mtn. Snow Park approximately 40 minutes from Cave Junction. Downhill skiing is a 2 hour drive to the ski area parking lot at Mount Ashland, and of course, there is the Mt Bachelor Ski Area, a 4 hour drive, with plenty of lodging available in Sun River or Bend. The beach is a 55 mile drive through the Smith River Canyon and the Redwood Forest.
The climate is moderate. We have a 140 day growing season with 40+ inches of annual rainfall, that begins usually in November and cuts off in May. The winter occasionally brings snow to the Valley floor, but is looked upon as a treat, and a chance to get out and play before it disappears. Varied wildflowers spring up from February thru October. The wild dogwood and fruit trees burst open in April. The summer brings warm , dry weather, perfect for gardening and summer recreation. The fall is often an "Indian Summer" and the scenery again is full of color, with cool crisp mornings and warm sunny afternoons.
Medical facilities consist of the Siskiyou Community Healty Center (clinic) with two full time doctors and six nurse practioners and PAs. We have two chiropractors in town, and three dentists. There is a county health nurse, who provides BP checks, blood glucose and cholesterol checks, and immunizations all at low cost. We do have a Certified Paramedic Ambulance Service and some additional EMT's with our Illinois Valley Fire Service. Check the Business & Services page for a list of local medical facilities. Three Rivers Community Hospital is just 35 minutes away in Grants Pass (map), with more physicians & specialists at Providence Medford Medical Center and the Rogue Valley Medical Center in Medford providing open-heart-surgery, cardiac intensive care, oncology, and several other medical services.
In our schools, our teachers are respected. They are caring, and take pride in turning out good students . One of our educators was selected as Oregon's Teacher of the Year a couple of years ago. We have a Head Start Program, one elementary (Evergreen), one middle (Lorna Byrne), and one high school (Illinois Valley High School) in Cave Junction and one elementary school in Selma. Two private schools with a religious orientation are the Madrone Adventist Elementary, and the Christian Academy. The Dome School in Takilma for pre-school through fifth grade is a popular alternative to public education as is home schooling. There is also an Alternative Education Center. Computer classes are available as early as the 4th grade in Cave Junction. Southern Oregon has wonderful opportunities for higher education with Rogue Community College with a local extension and Southern Oregon University in Ashland. The Illinois Valley Community Development Organization in conjunction with the Illinois Valley High School and Rogue Community College sponsor a Community Education Project with classes from guitar, spanish, and computers to whatever the community is interested in. If there are enough people wanting a class a teacher is found. The community is surveyed prior to each semester. More detailed information on schools is available on the Business & Services page.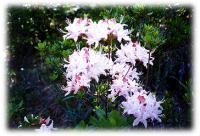 The Geography is defined by the Illinois River valley and it's tributaries surrounded by mountains. The elevation ranges from 1236' just north of Cave Junction to 3600' in the west at the top of Woodcock Mountain or 7055' on Grayback to the east. The soils range widely from sandy loam alluvial deposits to peridotite composites with magnesium, iron, alumina, sodium, calcium, potassium and silica forming the soil base that supports our unique plant species. Gardening can range from easy to a challenge.
The Labor Force is as diverse as the geography. There are many semi-retired professionals looking for supplemental income and always new people wanting to live in such a nice place. Every year there is a new class graduating from the high school, many wanting to remain in the area around their family and friends. With Rogue Community College and the Community Education Project skill training is available and can be tailored to almost any business need.
23 Churches and 2 church schools of various denominations are listed in the local telephone book. We have also provided an online listing of these churches.
Our communities are proud of their many volunteers who enhance our schools. Activities for children include basketball, football, two soccer seasons, a wrestling club, youth summer golf, and of course baseball in the spring. Swimming lessons are available at our pool in the summer. We have Girl Scouts, Boys Scouts, many active 4-H groups, and a chapter of the Civil Air Patrol, plus many other groups and activities. There are many active churches and organizations, and a county library with programs for all age groups.